Pain-Relief
Cold Laser Therapy
Helps Your Pets Heal Faster, Improves Pain, And Increases Mobility.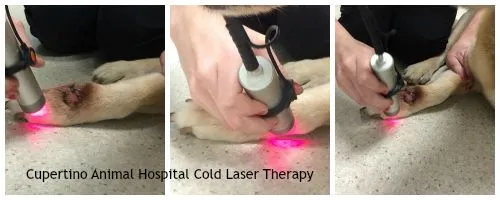 Cupertino Animal Hospital is pleased to announce the addition of a drug-free, surgery-free alternative to your pet's pain, Pain Relief Cold Laser Therapy. (Google: Cold laser treatment in pets as well as people to learn more)
How does it work? When the deep penetrating laser interacts with damaged cells, healing is accelerated.
Cold Laser Therapy Provides Relief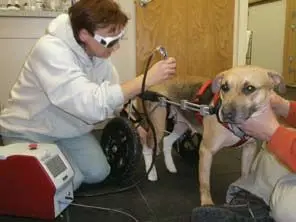 Allows your pet to heal faster after surgery or any traumatic injury.
Eases pain and improves mobility without the use of pharmaceuticals and surgery.
Provides geriatric pets relief of aches and pains, and allows for more freedom and improved quality of life.
Relieves severe pain and discomfort instantly from everyday disorders such as lick granulomas and chronic ear infections.
Some Of The Disorders That Respond To Cold Laser Therapy
Arthritis
Numerous Skin Conditions
Post Surgical Pain Relief
Degenerative Joint Disease
Insect Bites/Stings
Lacerations/Abrasions

Hip Dysplasia
Wound Healing
Otitis (Chronic ear infection)
Cystitis (Chronic bladder infection)
Burns
And more
Additional Cold Laser Therapy Pricing/Specials: Each laser therapy package is custom designed and based on the individual needs of your pet. We are offering some introductory savings on special packages, please call us for details.
Questions? We'd be happy to answer any of your questions and discuss how the laser therapy system could benefit your pet. Feel free to give us a call: (408) 252-6380